Regular price
Sale price
$25.00 USD
Unit price
per
Sale
SOLD OUT
Airy, light, highly moisturizing, multi-functional, waterless body delicacy ready to nourish your skin from head to toes.
Perfect for dry to extra dry skin, our body soufflés were specifically formulated to soften the skin over stretch marks caused by pregnancy and weight loss, eczema, rashes, dermatitis, rough dry spots, feet, elbows and knees.
What's a body soufflé? Body soufflé, coined from the baked egg-based dish originating in France in the early eighteenth century, is the lightest and airiest of body moisturizers. Its texture is whipped and fluffy, making it a delicacy for the skin. Body soufflés are water free, emulsions that combine a number of nutritious emollients and butters to nourish, soften and protect the skin from environmental damage. Not to be confused with body butters and balms which are solid.
Simple ingredients, amazing results™
Share
VIEW PRODUCT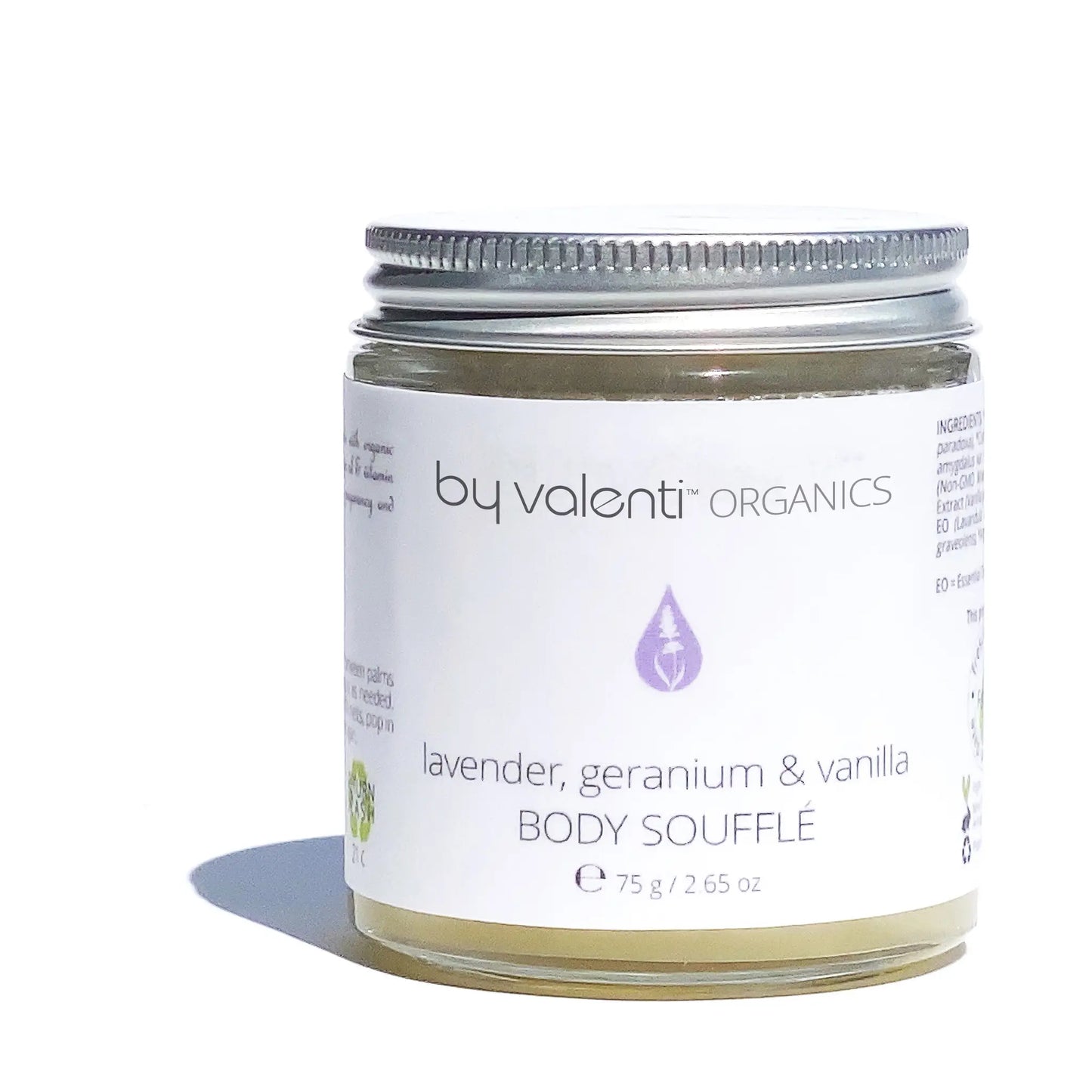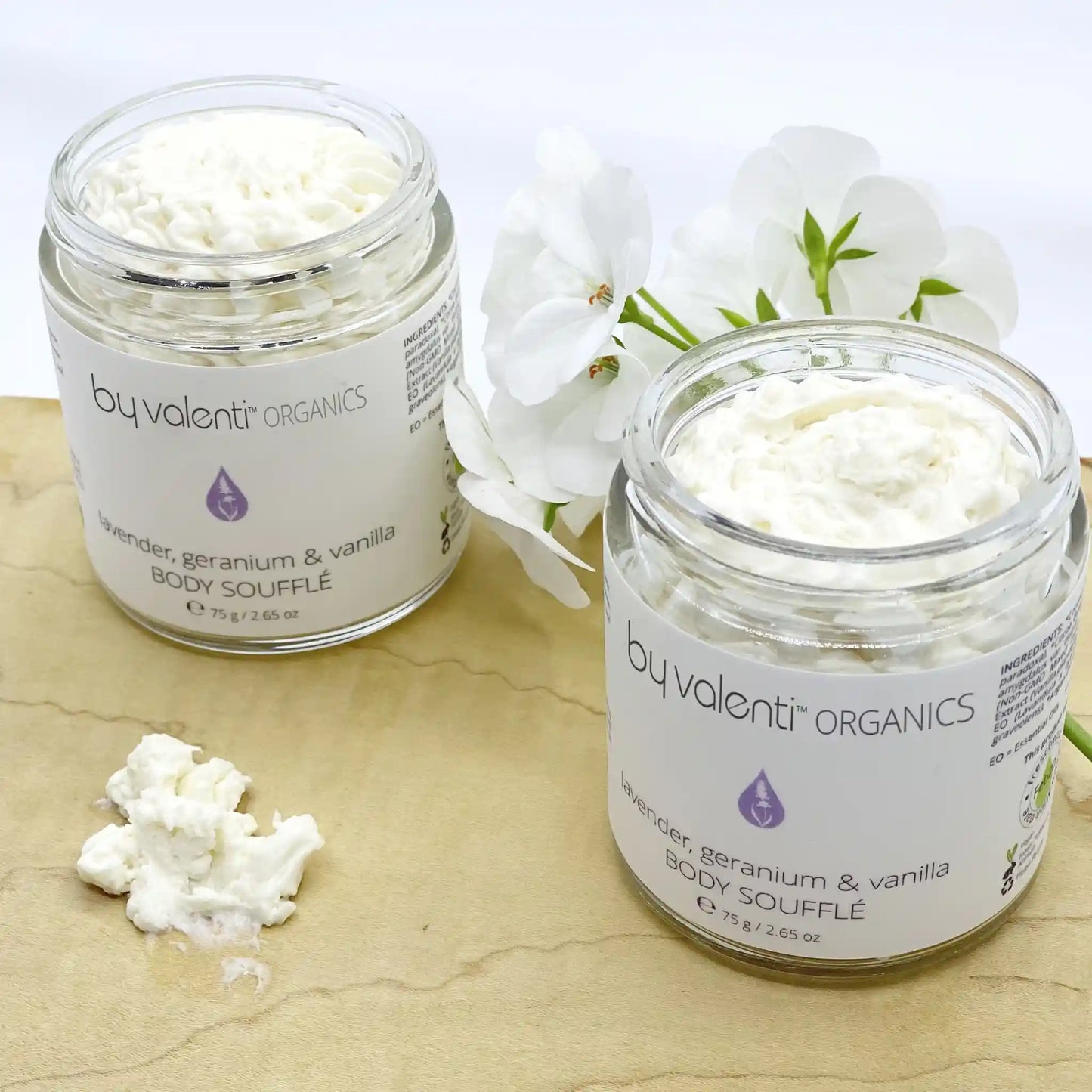 Great for massages
This whipped cream is amazing!!!! I use it literally for everything, head to toe! It's great as a body moisturizer, for massages, as a makeup remover, on my knees, elbows and feet to soften those rough patches and as a cream bath on my naturally curly hair. It leaves my hair super soft and manageable. Once a week or when needed I massage a generous amount all over my hair and leave it on for about 30 minutes, the longer the better. I then shampoo and air dry. Goodbye dry frizzy hair and hello soft bouncy curls!
My new makeup remover
I ran out of my usual makeup remover and used a bit of this lotion which is my must have for everything. I gotta say it was awesome! It melted all the foundation, mascara and even the eyebrow pencil away in an instant. It didn't leave my skin greasy at all, so now this is my go-to makeup remover.
Can't get enough of this balm!
I just can't get enough of this balm!!! I'm in love with the scent and I love how baby soft it leaves my skin!!!! Everyone buy this product!!! TRULY THE BEST THAT"S OUT THERE!!!!!!!!!!-!!!!!!!!!!!!!
Ashy skin
If you have black ashy skin like me this is the product for you! I've been using this balm for about 3 months and it's been the best product I've tried so far. I have ashy feet, knees and elbows and this takes care of them without much elbow grease. I'm no longer embarrassed by my ugly skin and I've been using my sandals and skirts again. The balm goes in quickly, leaves a nice long shimmer without being greasy and it smells divine! My skin remains supple all day long, no matter how hot or humid the weather gets. I just couldn't believe a natural product could provide this level of effectiveness. I've recommended this product to all my friends and my mom just got hers in the mail. Thank you for such a superb product by valenti!
Tester
I had the opportunity to test this product at the street fair in Plymouth this past weekend. After checking the other skin care booths at the fair I couldn't find anything close not even similar, and I knew right away I had to go back and buy it before it sold out. I was truly impressed with how it smelled and felt on my hands I just love the scent, it's so relaxing and sweet, and man does this body butter moisturizes or what?! never have I felt my skin so soft. The fact the entire list of ingredients is on the label and that I can understand what they are, and that there are no artificial fragrances or colorants or weird chemicals, made me feel safe. Definitely By Valenti is a great ethical company truly engaged into making safe products rather than cheapen them out with artificial ingredients. The owner was there at the booth which surprised me a great deal, and she was really sweet at answering all my questions. You can tell these people know what they are doing for real. You have a customer for life here in Michigan. Thank you By Valenti!