Regular price
Sale price
$90.00 USD
Unit price
per
Sale
SOLD OUT
Discover the best mask for your complexion with our Facial Scrubbing Clay Mask Discovery Set.
Each formula combines an array of botanical ingredients, sugars, salts, vegetable oils, a variety of clays and essential oils to work in synergy with your skin to bring back its natural beauty.
So Much more than just Clay™
*Exfoliating action to aid in removing dead skin cells and debris to reveal healthy skin and increase collagen production.
*Replenish mineral loss; Earth clays are packed with minerals such as calcium, magnesium, silica, sodium, copper, iron, and potassium, all important for healthy skin.
*Clay's absorbing and adsorbing properties help eliminated excess oils, impurities and unclog pores leaving skin soft and smooth.
*Our proprietary blend of essential oils calm and provide antibacterial properties.

Simple ingredients, amazing results™
Share
VIEW PRODUCT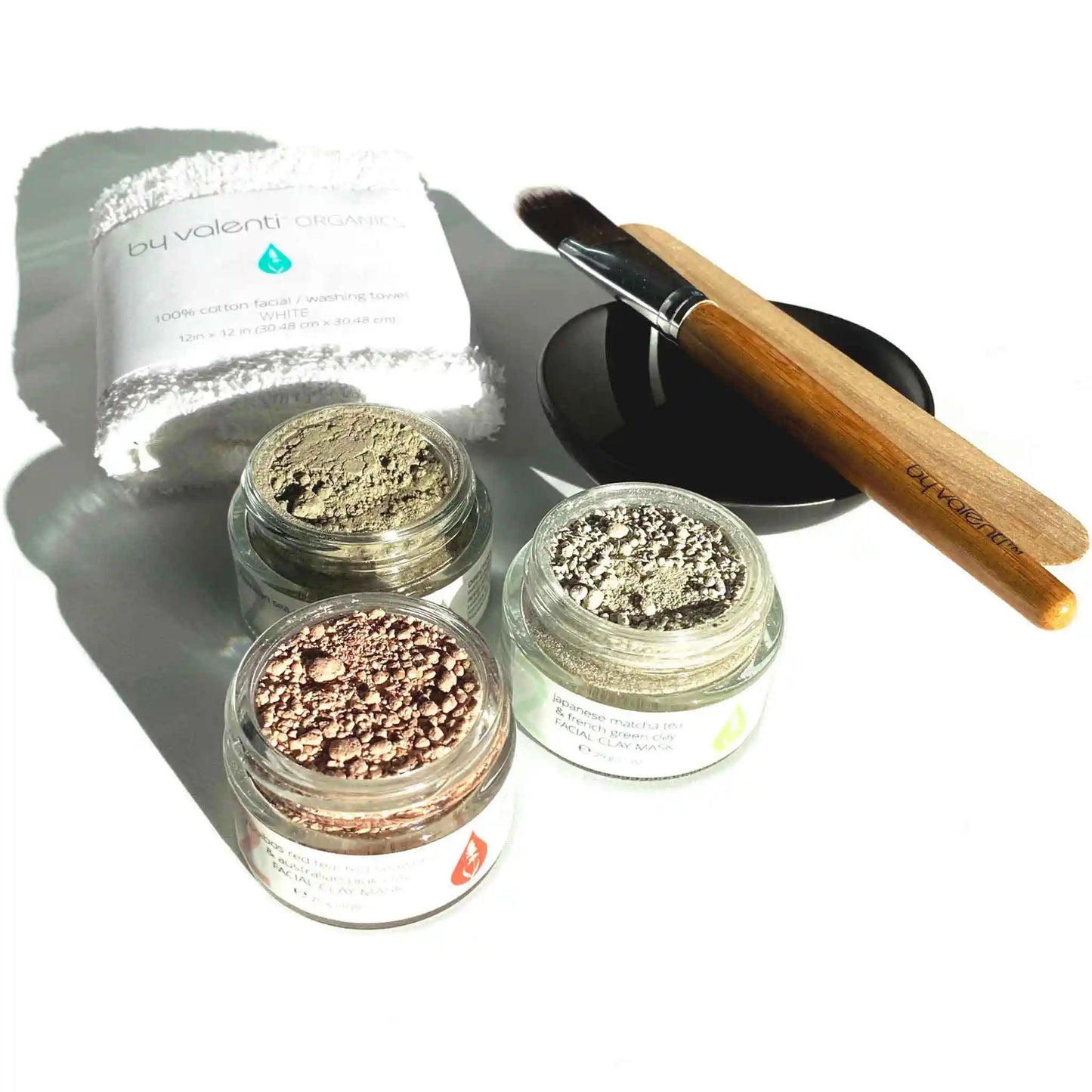 the what and the how
This set is what I needed!
This set is what I needed! Each mask provides different benefits, but each one is so much more than just clay like their slogan says! They have all have a blend of different clays, botanicals and teas. They all exfoliate which was new to me. It's like a spa that you can apply yourself. The coolest part is you have to brew your mask with hot water, like a tea which I never heard of before. The little booklet included has all the instructions to get the most out of each mask, what they were formulated for and how to correctly apply them. I tried their mix masks technique, which is applying a different mask for each part of the face depending on the needs of that particular area, and the results were incredible! I'm really impressed!
Perfect little set!
Perfect little set! I loved it! I was able to test each mask for a good month before deciding which one worked best for my skin type. It turned out my skin loved them all! The mixing bowl is the perfect size to mix one application. The wooden mixer are really convenient to prepare and apply the masks. The cotton towel a must if you want to keep your face free of bacteria.
This set is perfect
This set is perfect. The only problem I'm having a hard time with is choosing which mask I like the most! All three masks left my skin glowing and smooth! The bowl is the perfect size for one application. There is plenty of product in each jar to try for a good month or two. Really wonderful product!