Regular price
Sale price
$80.00 USD
Unit price
per
Sale
SOLD OUT
This potent, fast-penetrating serum dramatically reduces the appearance of enlarged pores, fine lines and wrinkles while fighting the signs of premature aging.
Vitamin A (Retinol/Retinyl Palmitate), to significantly reduce the appearance of wrinkles, dark spots and fine lines.
Coenzyme Q10 (Ubiquinone-10), to significantly reduce the appearance of wrinkles, dark spots and fine lines.
Vitamin C (L-Ascorbyl palmitate), to reduce the appearance of brown and age spots caused by sun damage and boost collagen production.
Olive Squalane Oil, Caprylic/Capric Triglyceride and Rosa Mosqueta (Rosehip Oil), to soften, moisturize and nourish dry damaged skin.
Share
VIEW PRODUCT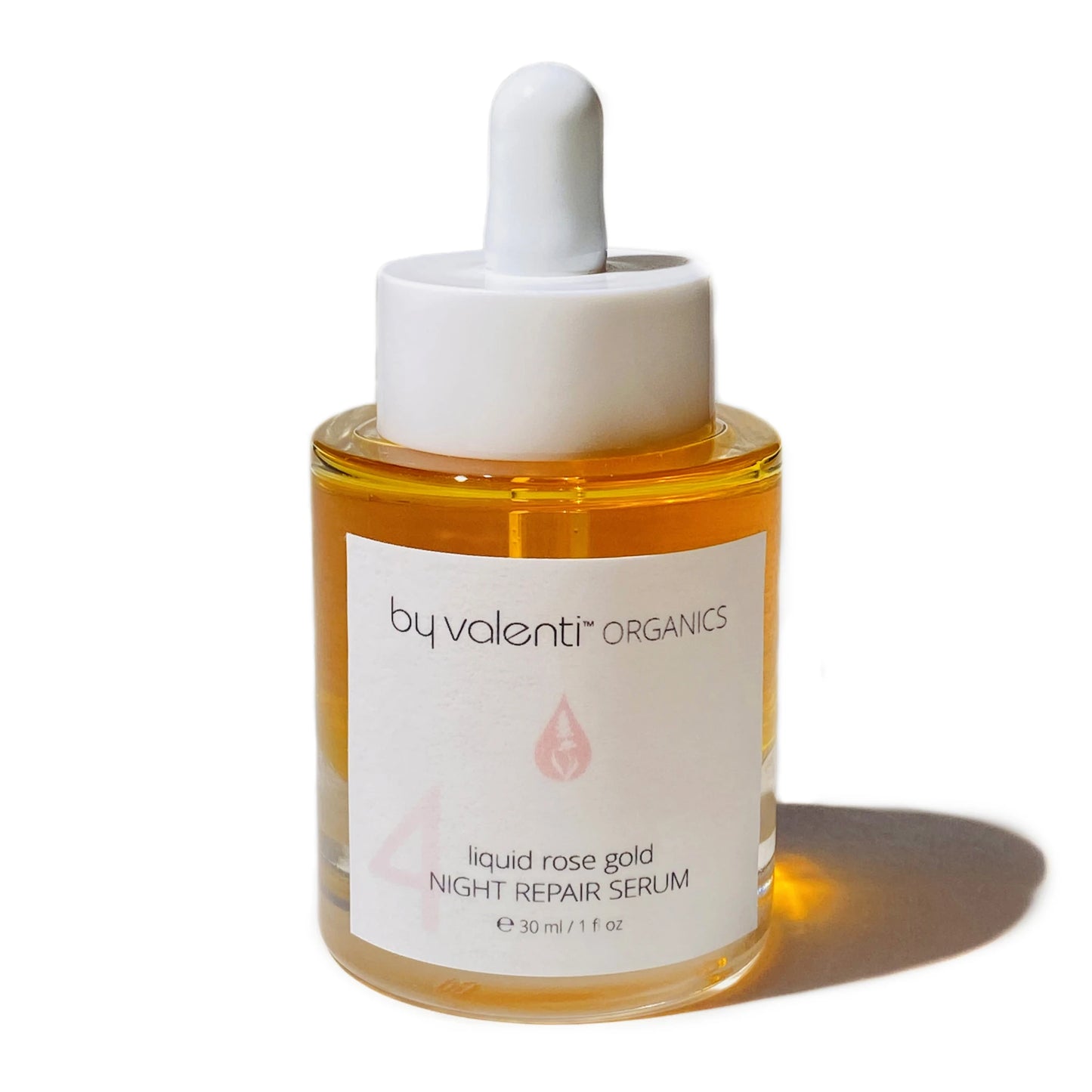 A sample with my order
I received a sample with my order a while back. A small vial that lasted me for almost a month. The first day I applied it I fell in love with it. It smells like roses and the color is so pretty and vibrant. I really love the results. The lines around my mouth and eyes have slowly erased away. I had some dark spots I used to cover with makeup because they made me self conscious, now I cannot even see where they were. I didn't know you're supposed to apply facial products to your neck, so I never paid much attention at how my neck looked until I got this product, now the skin on my neck looks beautiful and smooth. This serum if very potent and it will last you a long time. Follow the instructions, it makes a whole lot of difference. I cannot wait to receive my new bottle in it new packaging, it looks so beatiful!
A sample
I got this serum as a sample with my last order and I fell in love with it the first night I applied it. The delicate scent made all the muscles around my face soften up and relax as I massaged the serum. I'm an ER nurse and I work extremely long hours during this third wave of the covid pandemic. Because this serum tackles a number of issues all at once, I don't need to spend time layering products anymore, so I get to sleep a bit longer every night.
After about 2 weeks of daily applications my coworkers started asking what was I using because my skin was glowing. Little by little I have noticed those fine lines disappearing, and those thicker ones getting thinner and thinner.
This is the best product I've used in a while. Definitely a keeper!
I don't know why
I don't know why people aren't reviewing your brand becasue your products are AMAZING!! 🤩 I got this serum oil as a free sample and I was hooked!! My skin loves it so much!!! I dab just a drop around my eyes and the corners of my mouth. Just one drop is more than enough. My fine lines have smoothed out almost completely and the deeper ones are barely noticeable. My skin looks flawless and younger!
Your products are incredible!! Thank you!!
I love this oil
I love this oil and so does my mature skin. The scent is very delicate and quite exotic.
I JUST LOVE THIS PRODUCT!!
I JUST LOVE THIS PRODUCT!!